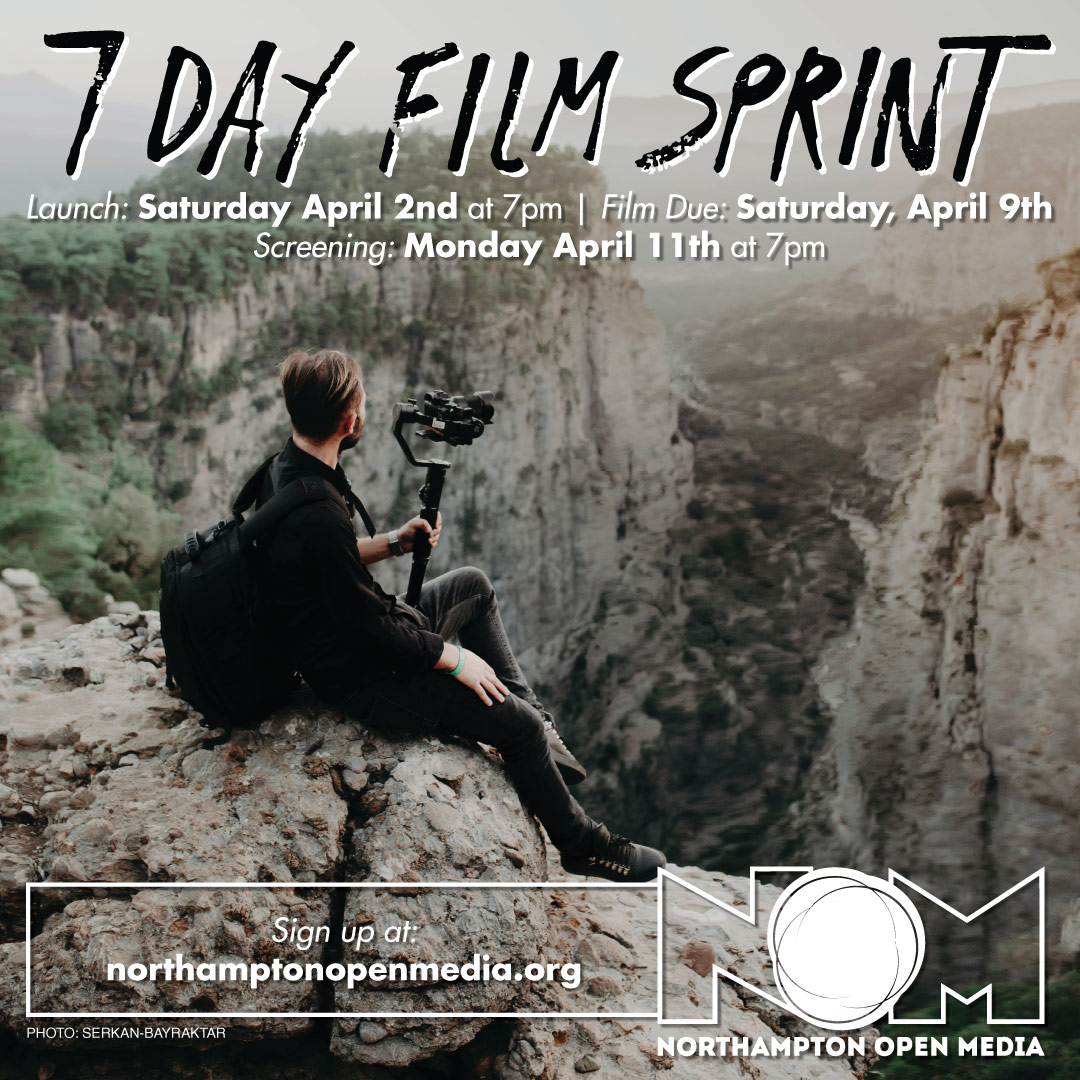 Home
Rules & Guidelines
Sign Up
Previous Year's Films
Submit Your Film
Welcome to the 7 Day Film Sprint.
The Film Sprint is back, and this time it's in person! Join us at our location in the Northampton Arts Trust at 33 Hawley for the launch event, or participate online. Prompts to be included in all films are announced at the launch. Each team receives unique, randomly-assigned prompts to ensure the originality of their film. The screening will be back at the Parlor Room on Masonic Street and will be simulcast online.
NOM is open, so please take advantage of all our fantastic production equipment and editing facilities. Can't make it to our space? We encourage the use of cell phones, online edit tools, and social media platforms to create content.
Signups for the 7 Day Film Sprint will be open at www.7dayfilmsprint.com up until the live launch on Saturday April 2nd at 7pm. Films will be due by Saturday, April 9th at 11:59pm and the live online screening will be conducted on Monday, April 11th at 7pm.
Prompts
You will be given a series of prompts to guide your production.
The universal prompt, that all teams must utilize, is a word, spoken or appearing on screen in your film, that will be announced at our launch on Saturday, April 2 at 7pm, along with additional prompts that will be drawn on a team-by-team basis. Each team will receive 3 unique prompts, but you are only required to use 2 of them.
Prompts should be broadly interpreted – use them to get creative, not to limit your vision!
The Sprintys

The Sprintys screening party will be held on Monday, April 11th at 7pm, at the Parlor Room and live online on NOM.
Content and Technical Details
Films are up to 2 minutes in length. Films may also contain up to 20 seconds of credits, which will not be debited against the two minute length cap of the film.
Content must be at most PG-13. Northampton Community Television will have final say regarding appropriateness and acceptability of a film. Do not use any copyrighted music, images, or audio in this film. There is an abundance of copyright-free, creative commons sources available online. Please contact us if you need assistance in finding these sources.
Recommended export settings are 1920×1080 at 24fps in the MP4 format.
End credits should include the phrase, spoken or written "A Community Media project with Northampton Open Media."
Northampton Open Media Resources

NOM is open for equipment lending, editing and training on Tuesdays, Wednesdays and Fridays from 11-7pm. Please reach out to us if you would like to take advantage of any of our resources.
Delivery
Submit your film by 11:59 PM on Saturday, April 9th, 2022 by uploading it to the link we provide you!
We encourage you to use #FilmSprint on social media.
Below is a playlist with all of the 2021 films. Click the playlist icon in the top left corner to see all the films.
Submit Your Film
Submit your finished film on this page by 11:59 PM on Saturday, April 9th, 2022 by uploading it via the link provided to teams.